Celebrate National Library Week April 8-14, 2018  with the theme, "Libraries Lead."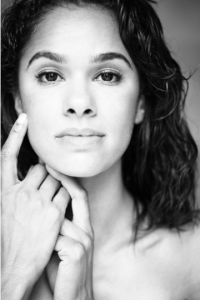 Misty Copeland serves as 2018 National Library Week Honorary Chair
In 2015, Misty was promoted to principal dancer at the American Ballet Theatre, making her the first African American woman to ever be promoted to the position in the company's 75-year history.
Misty is the author of the New York Times bestselling memoir, Life in Motion and her 2014 picture book, Firebird, won the Coretta Scott King Book Illustrator Award in 2015. Her new book, Ballerina Body, an instant New York Times Bestseller, published in March 2017.
Misty's passion is giving back. She has worked with many charitable organizations and is dedicated to giving of her time to work with and mentor young girls and boys. Misty was named National Youth of the Year Ambassador for the Boys & Girls Clubs of America in June 2013. In 2014, President Obama appointed Misty to the President's Council on Fitness, Sports, and Nutrition.  And in 2015, she traveled to Rwanda with MindLeaps to help launch its girls program and to establish The Misty Copeland Scholarship.
The National Library Week 2018 celebration will mark the 60th anniversary of the first event, sponsored in 1958.

Celebrations during National Library Week
Monday, April 9: State of America's Libraries Report released, including Top Ten Frequently Challenged Books of 2017.
Tuesday, April 10: National Library Workers Day, a day for library staff, users, administrators and Friends groups to recognize the valuable contributions made by all library workers.
Wednesday, April 11: National Bookmobile Day, a day to recognize the contributions of our nation's bookmobiles and the dedicated professionals who make quality bookmobile outreach possible in their communities.
Thursday, April 12: Take Action for Libraries Day.
Ways to Participate
Let the world know how the library has led you to something of value in your life. One randomly selected winner will receive a $100 VISA gift card and a copy of "Firebird," the Coretta Scott King Award-winning book by Misty Copeland, 2018 National Library Week Honorary Chair.
Library lovers can post to Twitter, Instagram, or on the I Love Libraries Facebook page during National Library Week for a chance to win. Entries can be a picture, video, or text.  Creativity is encouraged. Just be sure they include the hashtags #NationalLibraryWeek and #LibrariesLead on their social media post for a chance to win.
Join in the fun. The promotion begins Sunday, April 8 at noon CT and ends Saturday, April 14 at noon CT.